An instruction class is given by the club. The class is usually held at the workshop. The training typically will be on an area of the lapidary arts. Past classes have addressed making cabochons, wire wrapping, beading, metalsmithing, mineral slab sawing, jewelry enameling and the like.

If you have a particular interest, let us know and perhaps a training class will be made available.


See some other jewelry making skills you can learn
Yvonne Foster says ...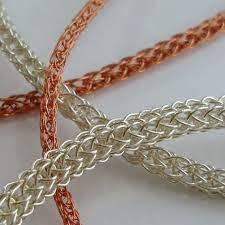 Viking knit weave is an old technique. I have found information on it in Viking burial goods dating mostly from 8th and 9th century AD, and a couple from around 600 AD. This would cover different areas that the Vikings went to such as Ireland, England, The Norse areas you would think of, and the Mediterranean even as far as Egypt. That would be the style we call Viking knit today. There are several similar but significantly different techniques that predate this going back to several hundred years BC.

The creation of Viking knit as we know it today seems to have started at roughly the time that drawplates came into use. Drawplates are used to create lengths of wire more efficiently and in the case of Viking knit weave to compress and lengthen the final product. That would have pretty much caused the creation of a tool and the technique that relies on that tool to show up in roughly the same time period.

This weaving technique is very simple and uses simple, inexpensive tools. I will teach a class on it Saturday, June 3rd.
The teaching won't take more than an hour or so, and the rest of the time will be working on a piece to finish it. We will
use copper 26 ga. If we have time, I may show another chain making technique, but Viking knit takes a good bit of time
per inch. Because of this we will start with a bracelet. I will also show how to make your own tools. The workshop has
student tool kits which can be used, for pliers and flush cutters.
The lesson will use copper but sterling (dead soft) works much the same and you can later use the same info to do silver
pieces. Class will be limited to six people, so please verify with either me or Levan so we don't overbook the class. If
enough people want to learn this, I will hold a second class.

What to bring: a magnifying visor that is hands-free, fine jawed jewelry pliers and cutters, any beads or findings you
might want to incorporate, an assortment pack of wooden dowels you can get at Michaels or Hobby Lobby, etc., a
footlong piece of 1x2 inch hardwood to make a drawplate. I will show you how to make your own drawplate, etc. All the
hand tools are optional as we have them at the shop. You might prefer using your own, but I would suggest marking them
somehow to prevent confusion. A dab of colored nail polish works well.